What's that woolly wonder thundering through the sky towards Soho? Is it a bird? Is it a plane? Holy handmade heroes! It's the Knit the City Book Launch!!!
Somewhere in London's sprawling metropolis lurks the lovely Gosh Comics. Gosh is home to all sorts of handdrawn heroes from your DC and Marvel megastars to the cheery comic characters we grew up with. Shelf upon shelf of them line the wondrous walls. (They're still there for a while too! Go see them!)
So when the Knit Signal shone on the skies above Soho, the KTC Yarn Corps: Deadly Knitshade, Shorn-a the Dead, The Fastener and Lady Loop, leapt into the Knitmobile and faster than a stitched speeding bullet hotfooted it to Gosh. Our woolly weapons of choice were a handful of handmade heroes made to celebrate the launch of our brand new book, Knit the City: A Whodunnknit Set in London.
The most important part of any book launch is, of course, the cakey goodness you get to scoff to celebrate. And, as revenge for all of the puny humans Plarchie has eaten since Deadly Knitshade first created the handknit monster, we were made a special Plarchie cake! Kudos to Susannah Northfield, cake-maker extraordinaire.
The scene was set for handcrafted celebrations of the comicbook kind. Gosh filled to the brim with KTC's stalkers, friends, family and an assembly of handmade heroes created just for the occassion.
SLAM!
In leapt the lovely Lady Loop launching a volley of fabulous crime-fighting females:
Golly gosh! It's woolly Wonder Woman!
By Eternia's moon! It's stitched She-ra: Princess of Purly Power!
MRRRROOOOOOOWWWWW!
Landing on her feet the splendid Shorn-a the Dead released a purled person of PVC-clad purrfection.
Crikey! It's crafty Cat Woman!
They hovered above the bookshelves alert for crime below.
Darting from the darkness the dastardly Deadly Knitshade dashed onto the scene with her stitched-up comic celebrities.
Good grief! Squishy Snoopy in a celebration Snoopy dance!
Kickass! It's hardcore handmade Hit Girl!
"]
Jøss! All the way from Moomin Valley we welcome a wool-based Little My.
BLAM!
Blasting through the city smog The fabulous Fastener flung out three feisty fibre crime-fighting fellas.
Holy handmade! It's Batman, the crocheted Caped Crusader!
Faster than a speeding bullet! It's handstitched Superman!
With great purling power comes great responsibility. Will stitched Spiderman live up to the job?
We came, we yarnstormed, we disappeared into the night leaving only a our crafty calling cards
And a harmless infestation of blinkin' bookworms.
(You can download the free Blinkin' Bookworm pattern over on Deadly Knitshade's Whodunnknit and celebrate where ever you are. Woo hoo!)
BIFF! THUNK! CRACK!
Holy handmade heroes! They're still there!
For the first time in Knit the City's history of yarnstorming our sneaky little knits will remain in place for a while so you can go and see them in all their fibrous finery.
Pop down to Gosh comics and see if you can find them all as they won't be there for long (but please leave them where they are this time. We'll release them into the wild later on).
Quick! Quick!
And if you missed the fun here's a sneaky peek. Apologies in advance for the mindwipe we'll have to enforce after watching…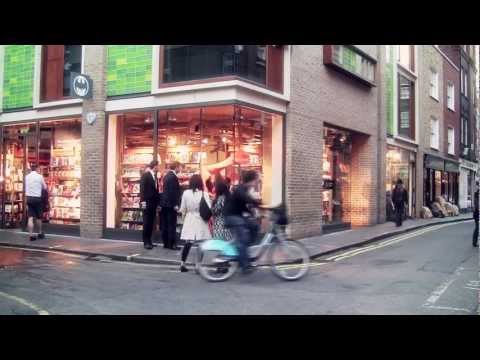 ---
Handmade Heroes! was yarnstormed at Gosh Comics in Soho, London on September 16 2011 by Deadly Knitshade, The Fastener, Lady Loop and Shorn-a the Dead in honour of our book launch for Knit the City: A Whodunnknit Set in London.

HUGE handmade heroes thanks every one of you who came along and filled Gosh Comics to bursting! We were amazed by the turn out. Also to Gosh Comics for letting us run wild with our wool, to Josh, Gary, Susannah (such cool cakes!), Sarah and Barnaby for making it all happen and putting all the pieces together, Zoe and Evie for their camera-wrangling genius and Danny and Dean for coming all the way from Summersdale Towers to join in. And confessional kudos to Emma P for her sneakery :).
Soon to come:
The Fastener's Handmade Heroes
Deadly Knitshade's Crafty Comics Creations
---